Congratulations on Excellence in Safety in 2022!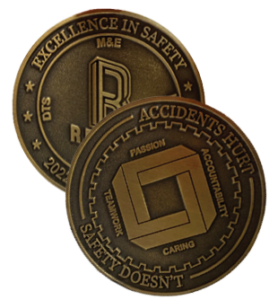 Our core values of Passion, Accountability, Caring, and Teamwork (PACT) drive everything we do. Our PACT is the foundation of who we are as a company. Our PACT with each other has been instrumental to our continued success. In 2022, we celebrated numerous milestones, including achieving and expanding our workforce. We are also proud to have accomplished our goal of providing a safe work environment for our employee-owners.  We ended the year with the remarkable achievement of Zero Injuries—specifically, zero lost time injuries and no recordable injuries.
Our employee-owners' accountability and care for each other's well-being are critical to fostering a safe working environment. As our services expand, we face greater challenges in achieving an injury-free environment. With over 500 employee-owners and 2,000 active projects, it requires a lot of committed professionals to make safe choices every day to keep ourselves and those around us safe. Injuries affect our workers and their families emotionally and directly impact our business and client relationships. Our ongoing efforts to identify, understand, and mitigate risks are essential to our continued success.
We are thrilled to celebrate our safety achievement by distributing the 2022 RESPEC Safety Challenge Coin. More information about the coin will be coming soon.
Some key statistics that showcase our safety achievements include the following:
We have worked approximately 1.8 million hours since our last lost time injury (November 2020).
We have worked roughly 1.4 million hours since our last recordable injury (July 2021).
Our 3-year Incident Rate is 0.33, half our industry average.
Our 3-year Lost Time Rate is 0.08, nearly four times lower than the industry average.
Thank you to the efforts of all our employee-owners in making RESPEC a Great "Safe" Place to Work.