RESPEC Announces a New Vice President of Its Infrastructure Unit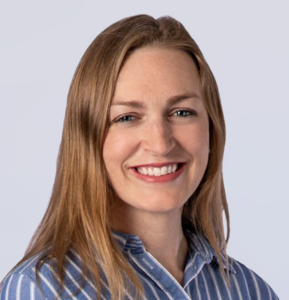 RESPEC is pleased to announce the promotion of Karen Brady to Vice President of its Infrastructure unit (INF). She will be working with Senior Vice President Matt Emerson and Vice President Danny Rauchenstein as part of INF's leadership team. Karen joined PDC Engineers (PDC), now RESPEC's INF unit, after graduating from the South Dakota School of Mines in 2001. Over the years, she has grown at RESPEC. Now, Karen focuses on growing our people, expanding our services, and supporting INF's overall strategy inside and outside of Alaska.
The trajectory of Karen's career can be mapped by a linear progression of opportunities. A career fair in high school first introduced her to the world of engineering. Her love for math and science led her to study civil engineering at the South Dakota School of Mines, where aspirations and networking opened doors to an internship in Alaska with PDC. Then, she joined the company full-time after graduation.
For more than 20 years, Karen has worked in INF's utilities group – as an engineer, then as its leader. She has been involved in planning, design, and construction administration on many projects across Alaska. Karen also led the multi-disciplinary INF team on the award-winning Moose Creek Expansion project, which brought clean water to the rural community of Moose Creek, Alaska, after its water supply had been contaminated with polyfluoroalkyl substances. From winning work to producing outcomes for clients, Karen's determination to succeed led her to the role of INF Vice President.
"I believe growth comes from having the courage to make decisions quickly when opportunities arise," Karen says. "It's a mentality I picked up from my mentors here, and one I hope to instill as Vice President. I'm ready to help INF and RESPEC grow."
Karen's goals as Vice President focus on expanding INF's services outside of Alaska and strengthening our partnerships inside the state. For instance, she anticipates that continuing to bring our Mining market on projects in Alaska will offer our clients more services and initiate more work for RESPEC. She also looks forward to adding more INF support in Alaska, South Dakota, and Wyoming, especially as the need for utilities engineering expertise continues to grow across the country.
Karen's promotion to INF Vice President demonstrates RESPEC's proactive succession planning. Company-grown, mentor-taught, and internally chosen for leadership, she exemplifies what it means to be a RESPEC employee-owner.
Matt Emerson, Senior Vice President of INF, confirms this belief. "Karen sees the big picture," he says. "When INF joined RESPEC, it's because we wanted to expand to the Lower 48. Karen can take us there. She has an eye on the future and sees the vision of this company."
"I've always felt supported by my mentors, my peers, and this company," Karen says, "I'm ready to do the same: support my teams, partner with our other markets, and continue to strengthen RESPEC."
Please join us in congratulating Karen Brady on her promotion to Vice President of INF!