RESPEC and EASOL Enter Into Strategic Partnership
INNOVATION IN THE K-12 SPACE
RESPEC has entered a strategic partnership with EASOL. RESPEC and EASOL have joined forces to develop open source educational technologies and help educators and school leaders transform teaching and learning. Together, we have joined the Ed-Fi Alliance to build core technologies and develop open source technologies.
THE RESPEC-EASOL SOLUTION
The RESPEC–EASOL solution will save states and local educational agencies millions of dollars by retiring costly and outdated legacy systems.
New Mexico's operational RESPEC–EASOL Ed-Fi Real-Time Data ecosystem will be able to efficiently and accurately analyze and report data that enables timely data-based decisions at every level – from the state to the classroom.
WHY RESPEC–EASOL?
Bring solutions that replace current Off-the-Shelf software that requires extensive costly customization for each State.
EASOL's open source technology model is software which allows States to avoid being locked into one vendor.
EASOL has a customizable Dashboard, utilizing simple SQL statements, that has a feature called the 'Flex Reports', creating custom reports with a simple interface.
EASOL can be integrated into Learning Management Systems like Canvas and Google Classroom.
EASOL features the Learning Lab: an OER (Open Educational Resources) content search engine with its own chrome extension for google classrooms, populating LMS's with high quality vetted free content.
EASOL is a perfect "on-ramp" to introducing blended and personalized learning.
Check out some of our projects!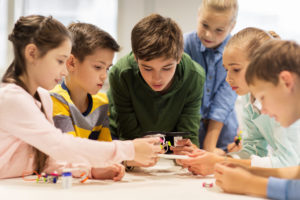 Enterprise Learning Management System
Creating a Learning Management System that enables content sharing and delivery for students, teachers and professional staff.