RESPEC Engineer Joseph Updike Named SDES Young Engineer of the Year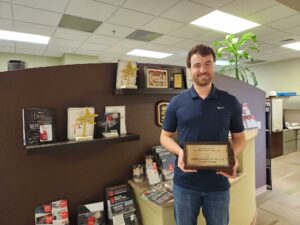 RESPEC is proud to announce that engineer Joseph Updike has been named the South Dakota Engineering Society (SDES) Black Hills Chapter Young Engineer of the Year. This award recognizes young professionals who have shown outstanding performance in their field and contributed to their community. 
Joseph Updike is a South Dakota native and graduate of the South Dakota School of Mines. He joined RESPEC in January 2023 as a member of RESPEC's Infrastructure business unit, where he has been involved in a variety of projects, such as the West River Regionalization Water and Wastewater Study, the Northdale Water and Sewer Relocation Feasibility Study, and an increasing number of Alaska and South Dakota projects.  
In addition to his technical experience, Joseph remains heavily active in community outreach and volunteering. He serves as president of the local chapter of the American Society of Civil Engineers, leads the young adult group at his church, and participates in Love INC's charitable furniture‑delivery program that helps low-income families.  
"I'm very honored to be recognized by the South Dakota Engineering Society and my peers in the industry," said Joseph. "I am grateful to work with talented professionals at RESPEC and contribute to our clients' success."  
With this win, Joseph joins a growing lineage of RESPEC employee-owners who have received the Young Engineer of the Year Award in recent years, demonstrating RESPEC's commitment to producing excellent, innovative, and quality professionals. Joseph will now be considered for the statewide Young Engineer of the Year Award and may advance to the national level.  
"I'm really grateful to God for giving me the opportunities He has and for surrounding me with the people at RESPEC," said Joseph. "I just want to encourage others to step forward, be involved in their community and workplace, look out for people around them, and always try to take part in something bigger than yourself." 
Joseph's dedication to his work and community is a testament to RESPEC's core values of Passion, Accountability, Caring, and Teamwork. RESPEC strives to create a culture that empowers employee-owners to make a positive impact on the world, and Joseph's win reflects that commitment.  
Please join RESPEC in congratulating Joseph Updike!