Mining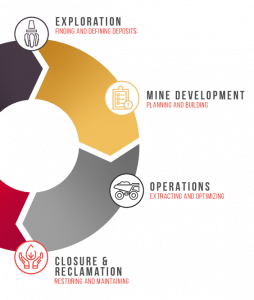 As global leaders in geosciences, data and engineering for exploration, mine productivity, efficiency, and safety, RESPEC is a trusted advisor with integrated technology solutions for mining and mineral clients.
Exploration techniques and smart mining continue to mature; RESPEC applies the power of even greater data intelligence to exploration and mining projects. Using advanced methods, including artificial intelligence, we automate core processes, simplify deposit detection and extraction, provide remote monitoring, and analyze massive amounts of data. Our team combines a long history of mining expertise with advanced digital technology to deliver 24/7 operational control with the aid of robotic vehicles and machine learning–based drones. RESPEC's experience and know-how can add value to your projects in every stage of the mine life cycle by optimizing exploration and production, increasing safety, enhancing reliability and reducing costs.
In the spirit of stewardship, RESPEC's team of distinguished professionals offers clients comprehensive expertise to maximize project returns while respecting the economic, social, and environmental well-being of a community.