Blasthole Survey Systems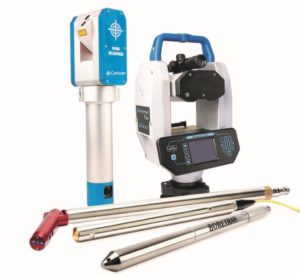 Even with today's precision-mining advances, mine and quarry managers may make the mistake of proceeding to blast on the basis of the drilling plan instead of using actual drilling results. If engineering and geotechnical works proceed on the assumption that holes are straight, they typically encounter costly project delays later.
To reduce deviation, error, and costly mistakes, RESPEC uses rodded and cabled Boretrak deviation measurement systems to complete a wide range of drilling-related projects quickly and efficiently. Our professional field team captures highly accurate 3D measurement data needed to make sound on-site decisions quickly and safely. Reliable data from Boretrak also reduce costs for mining clients because employing surveyors or other costly personnel is unnecessary.
The Boretrak borehole-deviation measurement system is a simple-to-use, portable system to measure the deviation of boreholes. Carlson features rodded and cabled versions of the Boretrak system. Rodded Boretrak is the primary workhorse for uphole and downhole operations in areas that are affected by magnetic interference, and the handheld, cabled Boretrak is only used for downhole operations but can cover large areas that are not affected by magnetic interference. Both systems can be carried by one operator. Cabled Boretrak comes in a single PELI TM case that weighs less than 5 kilograms (kg) in total.
Both Boretrak products provide an easy way to audit drilling activity accurately and can be used in multiple applications, including quarry and cast blasting, exploration and foundation drilling, dam pinning, construction, piling, and engineering works. Boretrak confirms the actual path of the borehole after drilling. Sites that use preblast borehole-surveying tools report improved site safety, increased productivity, and lower operating costs. Boretrak provides accurate 3D survey data on boreholes and drilling activity and calculates borehole deviation. Boretrak sensors are accurate to ±0.1 degree for reliable data.
Boretrak systems are designed to work reliably in extreme environments. A high degree of dust- and waterproofing is engineered into both the rodded and cabled Boretrak. Boretrak performs reliably and accurately in extreme conditions with wet weather, water-logged ground, submersion, temperature extremes, and sand and dust. For both systems, Boretrak Viewer Software makes quarry operations more efficient by using data from portable and robust laser-scanning systems. The feature-packed Boretrak mobile application makes drilling and blasting safer, faster, and more profitable than ever before.
MORE ABOUT BORETRAK
Mine and quarry owners need a fast, reliable way of measuring borehole deviation to obtain actual drilling data that saves money on breakage, transport, explosives, and fuel costs. Boretrak can alleviate costly delays on engineering or geotechnical projects and enhance the safety of employees and those living near blast sites. Boretrak can be deployed from ground level or underground sites to safely obtain 3D data that describe drilling activity.
Boretrak works with Carlson's Quarryman Pro to ensure compliance with quarrying legislation that protects local residents, employees, and property. Measuring borehole deviation mitigates the risks associated with incorrect borehole data, such as fly-rock caused by poorly designed blasts or intersection with underground utilities in engineering works.
By ensuring accurate data for better decision-making on the site, Boretrak's handheld Control Display Unit interfaces with dedicated PC software and enables users to audit drilled holes and produce reports in minutes. The results can be issued to on-site drillers on an as-needed basis. Improved on-site drilling operations become data led, responsive, and better integrated with Boretrak.
RESPEC uses Boretrak to map entire sites. Boretrak data can easily be georeferenced and related to a local coordinate system. Clients can compare today's results with historical data and view data from a range of systems—notably Carlson's Quarryman Pro. Using these precision-mining tools, RESPEC removes guesswork and data gaps.
The dust- and waterproof Boretrak system is rugged and designed for extreme conditions. The portable, lightweight systems, which are designed for use by a single operator, are easy to transport across sites and between locations and easy to deploy. Because boreholes frequently deviate, RESPEC uses Boretrak to increase the success and safety of a blast and minimize risk to the client's blast plan. Systems are available with wireless control and connectivity to support drilling, blasting, and geotechnical operations where safety, productivity, and profitability are key.
Clients use Carlson Boretrak® systems to:
Avoid borehole deviation, risks, and associated costs.
Work safely and improve an area's safety.
Improve blasting efficiency.
Survey for exploration and foundation drilling.
Enhance quarry blasting results.
Produce optimum fragmentation.
Control engineering performance.