Carlson Quarryman® Pro Laser Scanning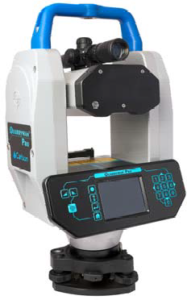 Quarryman Pro is an easy one-man operation with minimal training that offers safe, long- or short-range surveying without using reflectors for blast planning, stockpile measurement, and whole site mapping and provides an excellent return on investment.  Datasets are compatible with industry-standard blast-design and mine-mapping software package. Quarryman Pro is robust and has been carefully designed and tested to operate in the toughest conditions. This versatile system offers several applications that gives clients the ability to quickly and simply collect data to support all areas of operation.
Housed in a single PELITMcase and weighing only xx kg, Quarryman Pro is portable and easily transported between sites. The scanning unit attaches quickly and securely to its tripod for rapid deployment and use. Quarryman Pro measures and records millions of data points directly to a USB drive and does not require external PDAs or computers in the field for data storage. Users can choose between a manual point-and-shoot mode and an automatic laser-scanning mode (250 points per second). Entire rock faces can be scanned in minutes.
By using the separate Quarryman Viewer software on a laptop or PC, the collected data can be reviewed as a detailed 3D model, which can be edited, analyzed, and exported to specialist packages for blast design or mine survey.  The intuitive software for Quarryman allows users to export data into CAD packages to plan for new extraction programs or installations. The data used in Quarryman Pro applications improve efficiency in quarry operations.
New improvements to the latest Quarryman Pro feature a larger, full-color screen for better visibility that is readable in sunlight.  Data are now saved to a USB rather than a flashcard for improved data transfer and increased storage.  A GPS mount is built into the handle so that the Quarryman Pro can be geo-positioned quickly and easily map point cloud data to other quarry surveys.  Carlson has also designed fewer clicks per operation to increase working speed, and an auto-day and time-stamping to file names for quick search and retrieval were added. The operating temperature and processing power of the system have been increased.  The new lithium-ion battery is not only lighter but provides a longer scan time. The battery issues a warning when low and shuts down automatically if not recharged; however, the system retains data for retrieval later even if the device shuts down automatically.
Clients use Carlson Quarryman® Pro to:
Increase profitability, productivity and efficiency for quarry operations.
Capture 3D data needed to make better decisions.
Improve worker and environmental safety with safer blasts.
Stockpile monitoring to produce fast and accurate material stock valuations.
Ensure legal compliance.
Improve postblast workflow and minimize costs.